Holy Grail supplements – Holy GRAIL among pre-workouts?
2023-10-22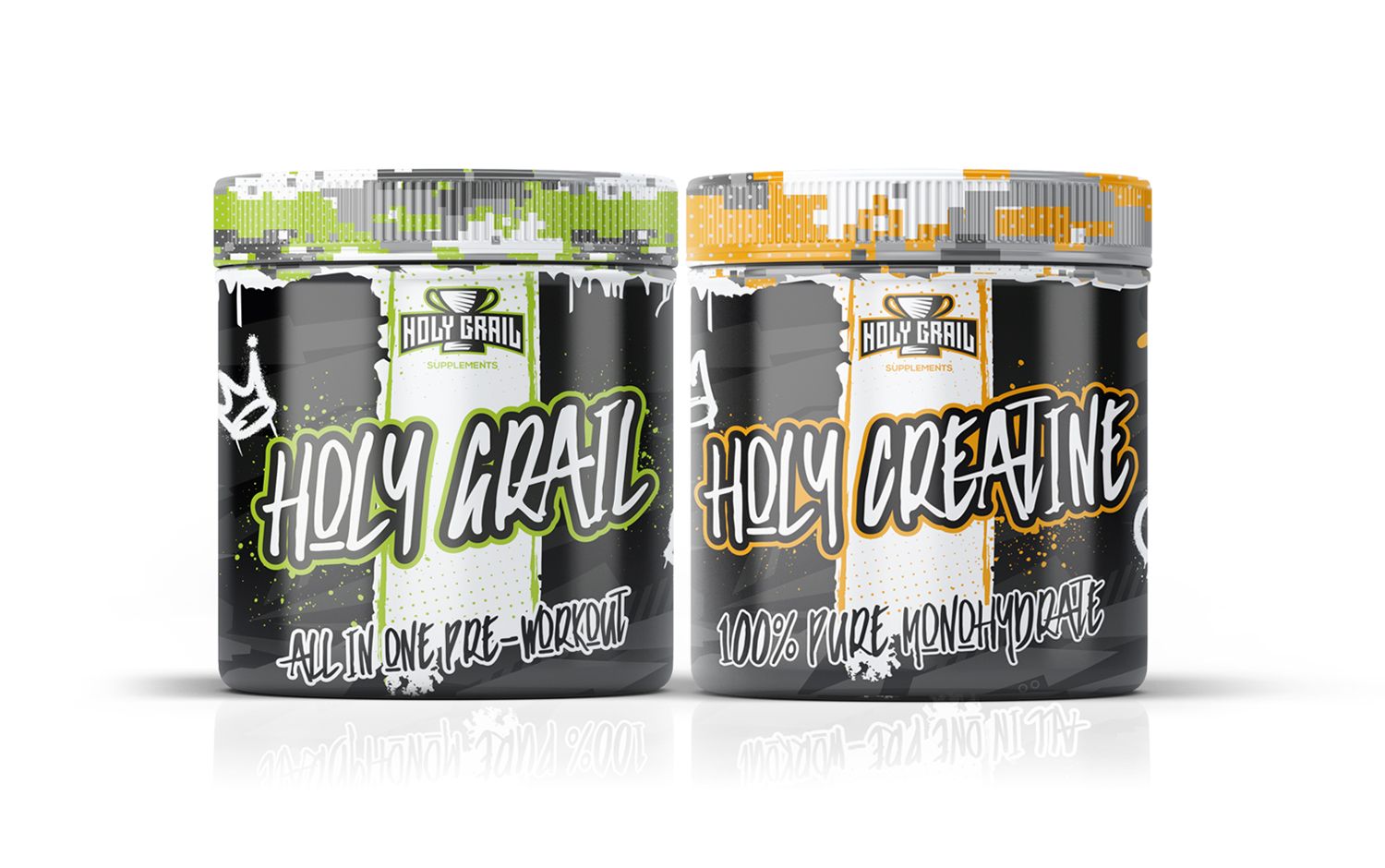 Holy Grail supplements – Holy GRAIL among pre-workouts?
Nowadays, dietary supplements accompany us in almost every area of life, especially in sports and fitness. However, choosing the right product can be difficult, especially among the many brands that offer various supplements. Among them, it is worth highlighting the Holy Grail brand, which specializes in the production of pre-workouts and fat burners, such as yohimbine. Will Holy Grail pre-workout find itself on the market of strong pre? Has the Holy Grail finally been found and Indiana Jones can retire? Let's find out!
Holy Grail – what is this brand?
Holy Grail is a brand of dietary supplements that enters the market with new products. Its brand offer includes pre-workout, yohimbine and creatine. Yohimbine and creatine are nothing more than monopreparations. So these are products that provide us with a pure, single ingredient. Good yohimbine on the supplementation market will always come in handy. Particular attention, however, is drawn to the pre-workout. As it usually happens, most supporters of strong pre-workouts are strongly interested in the composition and what the manufacturer offers us. We have described each product in detail below. So we invite you to read on.
What products do they offer?
Holy Grail DMAA pre-workout
Holy Grail Pre-workout DMAA 300 g is undoubtedly one of the strongest pre-workouts on the market. It contains many stimulants and nootropics that allow you to achieve maximum levels of energy and focus during training. It is dedicated primarily to connoisseurs of strong stimulation who want to take their workouts to a completely new level. Certainly with this product you will not run out of energy, and each workout will be used to the maximum.
What pre-workout ingredients do we distinguish?
DMAA, DMHA, Hordenine, Noopept, yohimbine – these are just some of the substances that are part of this pre-workout. Their unique combination allows for effective and strong mobilization of the nervous system to hard work. Thanks to this, each workout becomes more intense and effective. However, the product also contains "stabilizers" of the nervous system such as l-theanine or alpha-gpc. The addition of ingredients means that strong stimulation does not cause irritability and lack of attention. This is a great move, because a very large dose of DMAA, DMHA can mess with the nervous system.
The composition is unique and powerful that it is difficult to find something similar. Holy Grail pre-workout is a dietary supplement for advanced people who know their body and training needs perfectly. We recommend using 0.5 servings to start here to see how the body reacts to the product.
The benefits of using Holy Grail Pre-workout are enormous. Thanks to it, you can achieve better training results, increase endurance and strength, improve concentration and reduce regeneration time. It is an ideal product for people who strive to achieve maximum results in strength training and endurance sports. Of course, due to the very strong composition. It is a product to be used on the hardest training days, where we need the maximum boost of energy.
A summary of the
Holy Grail Pre-workout DMAA 300 g is a pre-workout for connoisseurs who are looking for strong stimulation. Thanks to the unique composition and excellent quality of the product, you can enjoy 100% of every workout. However, due to the powerful composition, it is recommended to use the product only by advanced people who have experience in the use of dietary supplements.
Holy Grail Holy Yohimbine HCL
Holy Grail Holy Yohimbine HCL 100 caps is one of the most effective dietary supplements that help in weight loss. Yohimbine allows you to get rid of excess fat from the most difficult places on the body. Thanks to its yohimbine content, which is known for its strong thermogenic and stimulating effects. This product is ideal for people who want to achieve the lowest level of fatness. Noteworthy is the dose of up to 10 mg in one capsule!
Yohimbine is an ingredient that has been widely used in sports supplementation. It is used primarily for fat reduction, but also as an addition to pre-workout supplements. Currently, quite many preparations from the group of pre-workouts have in their composition various forms of yohimbine. Holy Grail Holy Yohimbine HCL 100 caps contains pure yohimbine hydrochloride in a high dose. Which allows you to achieve strong thermogenesis and reduce appetite. This is the most famous yohimbine, which is very eagerly used for the so-called last touch.
How does yohimbine HCL work?
The action of the Holy Grail Holy Yohimbine HCL 100 caps supplement is very strong and effective. It accelerates the weight loss process, so you can achieve your dream figure faster. In addition, this product provides strong stimulation, which allows for more efficient training and increases motivation for regular physical activity. Yohimbine acts on specific receptors in the body that are responsible for the response to neurotransmitters. This allows you to mobilize the body to work more intensively. It also allows you to more easily use the reserves of adipose tissue in the body.
The Holy Grail Holy Yohimbine HCL 100 caps supplement contains only pure yohimbine hydrochloride, which allows for maximum effectiveness. What's more, thanks to this, we can freely combine it with other products that we want to use during the reduction. For example, yohimbine can be used as an additive to a fat burner that does not contain it. It can also be an addition to pre-workout when we are in the period of fat reduction and we want to increase the slimming effect of the pre-workout preparation.
Summary
Holy Grail Holy Yohimbine HCL 100 caps is a dietary supplement that effectively helps in reducing fat. Thanks to the content of pure yohimbine hydrochloride, this product provides strong thermogenesis, appetite reduction, strong stimulation and accelerates the weight loss process. It is an ideal solution for people who want to get maximum results in fat reduction and improve their physical condition. What's more, pure yohimbine can be used as an ingredient for other products.
Holy Grail Creatine – creatine monohydrate
Creatine Holy Grail is a high quality creatine monohydrate without additives. Is a dietary supplement that is very popular among physically active people, both professional players and recreational athletes. Creatine monohydrate is one of the most researched forms of creatine in the world. The proven effect of creatine allows you to maximize profits in the gym, increase strength, reduce muscle fatigue and accelerate the building of muscle mass.
High solubility creatine monohydrate by Holy Grail is a tasteless product, which allows you to use it alone or as an addition to your favorite stacks. This supplement is an ideal choice for people who want to make the most of their workouts at the gym and improve their performance.
Creatine is a simple way to get good results
The use of creatine monohydrate is a simple and effective method to achieve better training results. Thanks to creatine, you can increase your strength and endurance, which allows you to perform more repetitions and lift weights. In addition, creatine monohydrate contributes to the reduction of muscle fatigue, which allows for faster regeneration after intense workouts.
A summary of the
Creatine monohydrate is a dietary supplement that brings many benefits to physically active people. Creatine provides maximum benefits that we can use when training at the gym. Increasing strength, reducing muscle fatigue and accelerating the building of muscle mass are just a few reasons why it is worth using creatine monohydrate. The version of creatine in the form of a mono-preparation allows you to use it as an addition to other products.
Is Holy Grail noteworthy?
Of course, as for creatine and yohimbine, there is no doubt that these are products that we often meet on the supplementation market. Everyone will also agree with us that these are the ingredients of many supplements that are eagerly used in sport. You can certainly use their potential if you like to use creatine and yohimbine.
But moving on to our Holy Grail. It is a pre-workout that is loaded with strong stimulants and will probably give a lot of joy to old veterans who are looking for something like an old mesomorph or nox from Dorian Yates. The pre-workout works very strongly in the middle of the suggested portion. We definitely recommend it to people who love stimulants and like strong stimulation during training. Pre-workout will also be suitable, for example, during the period of fat reduction, especially in its final stage, where we lack strength for anything.
Frequently asked questions
1. Are pre-workouts safe?
Pre-workouts are safe if used in accordance with the manufacturer's recommendations. In accordance with the individual needs of the body. Therefore, before starting to use the pre-workout, it is worth carefully reading the label of individual products. It is also worth paying attention to other supplements that we use so as not to duplicate the active ingredients.
2. Do pre-workouts cause addiction?
Pre-workouts contain active ingredients, such as caffeine, which can affect the work of the nervous system and reduce its reaction to stimulants. Pre-workouts should be used in moderation and in accordance with the manufacturer's recommendations.
3. Are pre-workouts effective?
Pre-workouts can help you increase your performance and achieve your training goals. These are products that are characterized by ad hoc action, which is why they are so popular. This means that we feel the effect of the supplement after about 20-40 minutes. Supplements of this type give us a clear boost of energy, increase motivation and improve well-being.