Doesn't ship Orders
to USA
Worldwide Shipping
2-3 days
Rocky KO 300g pre-workout Submission Science
Submission Science Rocky KO is a comprehensive pre-workout supplement enriched with ingredients that further enhance its effectiveness. The new formulation of the product was composed using only the most effective substances, considering their required doses. Rocky KO effectively contributes to powerful arousal, increases concentration and guarantees high motivation to act while inducing a gigantic muscle pump. Thanks to the perfectly selected composition of ingredients, you gain faster regeneration and workouts become pure pleasure. Researchers from Submission Science together with athletes have refined the cult product Rocky 1,3 for maximum effect. Only the best quality ingredients were used for the production of the pre-hybrids to achieve satisfactory results. To increase the benefits for the body, the manufacturer decided to add B12 and D3.

Rocky KO pre-workout is:
Powerful stimulating effect,

Fast action,

Excellent feel,

A sudden increase in energy,

Improved endurance.
Rocky KO - composition:
Citrulline Malate 2: 1 - Participates in the synthesis of nitric oxide (NO) and phosphocreatine and oxygen metabolism of glucose, thereby increasing the uptake of oxygen, glucose, amino acids and creatine and energy production through muscle cells. It reduces the concentration of lactic acid and ammonia in the muscles, allowing the body to recover energy faster by increasing the level of creatine phosphate and resynthesis ATP. Citrulline malate is a much more effective form than high doses of arginine, as it is its precursor.

AGmass ™ (Agmatine Sulfate) - AGmass ™ from Compound Solutions Inc. in Usa. is a highly pure and natural source of agmatine produced by modern fermentation methods. Agmatine effectively increases the secretion of nitric oxide in the human body, which translates into a strong muscle pump feeling during training. Enlargement of blood vessels supports the supply of blood and nutrients to working muscles, which greatly speeds up the process of regeneration and construction of new muscle fibers. In studies using agmatine, it has been shown that its action may support protein synthesis even twice, which in addition to the action of agmatine itself, is also associated with the action increasing the supply of nutrients to muscle tissues.

N-Acetyl Tyrosine - Acetylated derivative of the amino acid L-tyrosine. Ordinary L-tyrosine is less stable and also less soluble in water, which can lead to reduced bioavailability. N-acetyl-L-tyrosine supports brain function by supporting the synthesis of catecholamine norepinephrine and dopamine (neurotransmitters). N-Acetyl Tyrosine helps in the proper functioning of the nervous system and in maintaining normal psychological functions and contributes to the reduction of tiredness and fatigue

Caffeine Citrate - Caffeine citrate has recently gained popularity in the fitness environment, because it raises the level of caffeine in the blood faster than other sources. Caffeine Anhydrous is an anhydrous form of caffeine from the group of organic compounds. It blocks the adenosine receptors in the brain, which results in eliminating the feeling of tiredness during training. Due to its thermogenic action, it effectively burns fat and improves metabolism.

Synephrine HCL - Has a similar structure to ephedrine. It is obtained in a natural way, from immature citrus fruit, e.g. Citrus uranium L., Citrus aurantium L. This substance is a natural substitute for ephedra. Increasingly, it is added to drugs and dietary supplements intended for athletes as well as overweight people. Synephrine is a phenylephrine isomer. The compound increases metabolism, decreases appetite while increasing mental and motor activity. Generates a willingness to work and physical activity which is beneficial for athletes. In addition, the substance increases mental and physical performance. Synephrine stimulates the sympathetic system, so it works sympathetically, just like adrenaline, tyramine or ephedrine. The main difference between the effects is that ephedra acts mainly on the alpha-1, beta-1, beta-2 and beta-3 receptors, and synephrine acts on the alpha-1 receptor. It also affects the beta-3 receptor, which causes lipolysis (fat breakdown) with the simultaneous start of thermo genesis. Synephrine increases blood pressure and affects the minute volume of the heart. It widens the bronchi to facilitate breathing, effectively clears the sinuses and improves well-being.
Higenamine HCL - This alkaloid is mainly obtained from seeds of Nelumbo Nucfera - Nodosa lotus, in small amounts it can also be found in coffee. It demonstrates a synergistic action to NMT, causing the release of noradrenaline and adrenaline into the blood resulting in the extension of the airways and thus the increase of the body's performance. The compound acts as a stimulant, increasing energy and alertness. Higenamine reduces oxidative stress by protecting the body against free radicals.

Hordenine - This ingredient works primarily through the release and protection of norepinephrine, which translates into an increase in metabolism, energy supply and a decrease in appetite. Athletes use Hordenine for three major gains: reduced fat content, appetite control and increased energy. The compound used by bodybuilders before training, for synergistic effects is combined with PEA (phenylethylamine). Higenamine is used as a replacement for DMHA, a stimulant that effectively burns fat.

L-Norvaline - It helps to increase the amount of arginine in the body. The substance has a beneficial effect on strengthening and maintaining many health and fitness functions of the body. The presence of L Norvaline in the supplement causes vasodilatation and increases the production of nitric oxide, which increases the supply of oxygen and nutrients to the cells, causing the muscle pump and an increase in energy.

Schisandra Chinensis - Citricium stimulates the central nervous system, contributing to the improvement of physical and mental fitness, stimulates the digestive system and regulates the level of sugar in the blood. The unique feature of Chinese lemons is also that it is a great way to detoxify our liver from toxic substances.

Yohimbine HCL - Is a substance that is helpful in the fight against the so-called resistant fat tissue, located mainly in the thorax and lower waist areas of men and hips, buttocks and thighs in women. Yohimbine HCL works by blocking the α2-type receptors, which clearly facilitates slimming and is helpful in sculpting body parts resistant to slimming. It is worth remembering that yohimbine effectively eliminates insulin. So taking this compound around carbohydrate meals is pointless. Yohimbine is particularly effective when used on an empty stomach, before physical exertion.

Huperzine A - Is an alkaloid of plant origin, isolated from a plant of the species Huperzia serrata, widely used in Asian countries. The substance indirectly influences the activation of nicotinic receptors, which increases the strength of muscle contraction. As a result, the training is easier and more effective. Scientific research proves that regular consumption of this compound promotes an increase in acetylcholine concentration. Supplementation has a positive effect on memory improvement, effective absorption of knowledge and increases the ability to concentrate. It has been proven that this alkaloid compared to other substances is able to more effectively exceed the blood-brain barrier and is characterized by a much higher bioavailability. As a result, it is one of the most effective substances increasing the activity of acetylcholine in the central nervous system.

Vitamin b12 - It is mainly responsible for the proper functioning of the nervous system, it also takes part in the metabolism of proteins and fats and contributes to the proper level of homocysteine, supporting the circulatory system. It stimulates the production of serotonin - a neurotransmitter responsible for a good mood. It also acts directly on the brain cells, protecting them from harmful toxins.

Vitamin D3 - It belongs to the group of fat-soluble vitamins. It is a prohormone with a steroid structure, very similar to testosterone. Vitamin D affects many physiological processes in the human body at the genetic level and plays a key role in maintaining overall health. D3 participates in the synthesis of about 200 proteins in the body and particularly strongly affects the growth of fast twitch muscle fibers type II, responsible for the strength and formation of a muscular silhouette. The effect of vitamin D on the calcium-phosphate metabolism also translates directly into the bone system, because calcium is necessary for proper muscle contraction and conduction of nerve impulses, and its appropriate amount improves training endurance and reduces the time of muscle regeneration.

To sum up, Rocky KO is currently the most energetic supplement available on the market, it is created for professional athletes who need an energetic kick to give even more. The product should not be used by people under the age of 18 and beginners who do not have an adventure with at least 2-3 other products based on DMHA.
Dosage:
No matter how much experience you have with pre-workout products, we recommend starting with 1/2 (half !!) scoops of the product to check your tolerances for the ingredients. After checking the tolerance, use 1 serving 15-30 minutes before training. Do not exceed 1 portions per day.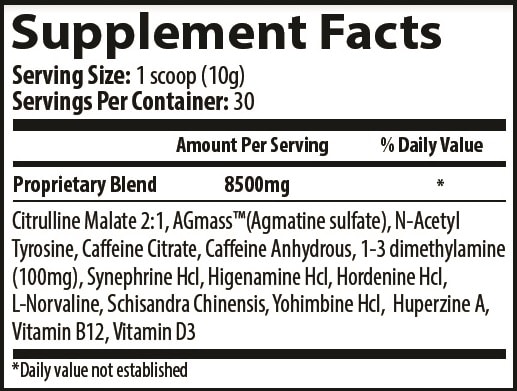 Number of reviews: 18
Average score: 4.89
Unfortunately, this is no longer the same product. The label says Fruit punch, but its something else. Also the First Rocky KO OG, had none Beta Alanine in it. This version is full of Beta.
Sorry for delay in review. This company is legit! Don't be alarmed by the tracking as it changes over to US post office later, if you are in the US. It can take a while to arrive but the product is legitimate. They address all concerns I had as it was my first time ordering so I was a bit nervous but I received my preworkout and it worked just fine! I will be ordering another one I seen shortly. Happy Customer! Thanks guys
anyone that has a full scoop of this is a psychopath. strong af highly recommend
I was really looking forward to using this pre workout as I have a high stimulant tolerance and was needing something to really get me going. But for whatever reason I didn't feel much going on even after taking a full scoop (started with half scoop as stated) I felt it gave me a steady flow of energy but certainly no different than other less potent pre workouts. So I'm not sure what all the fuss is about. Unfortunately this has not lived up to the hype. Especially for the price paid!
Super pwo love it gives you the energy that you need for the gym take full scoop and your ready to go
Insane pwo! Not for Everyday, its that heavy! For every stim junky wants to take their training to the next level
kick ass product, better than old meso
fantastic product ... you never get tired ... a real strength .. shipping for Italy fast ... thanks to everyone
my trusted pre workout the best of the best 10/10