Uwaga na podróbki APS MESOMORPH
2018-01-08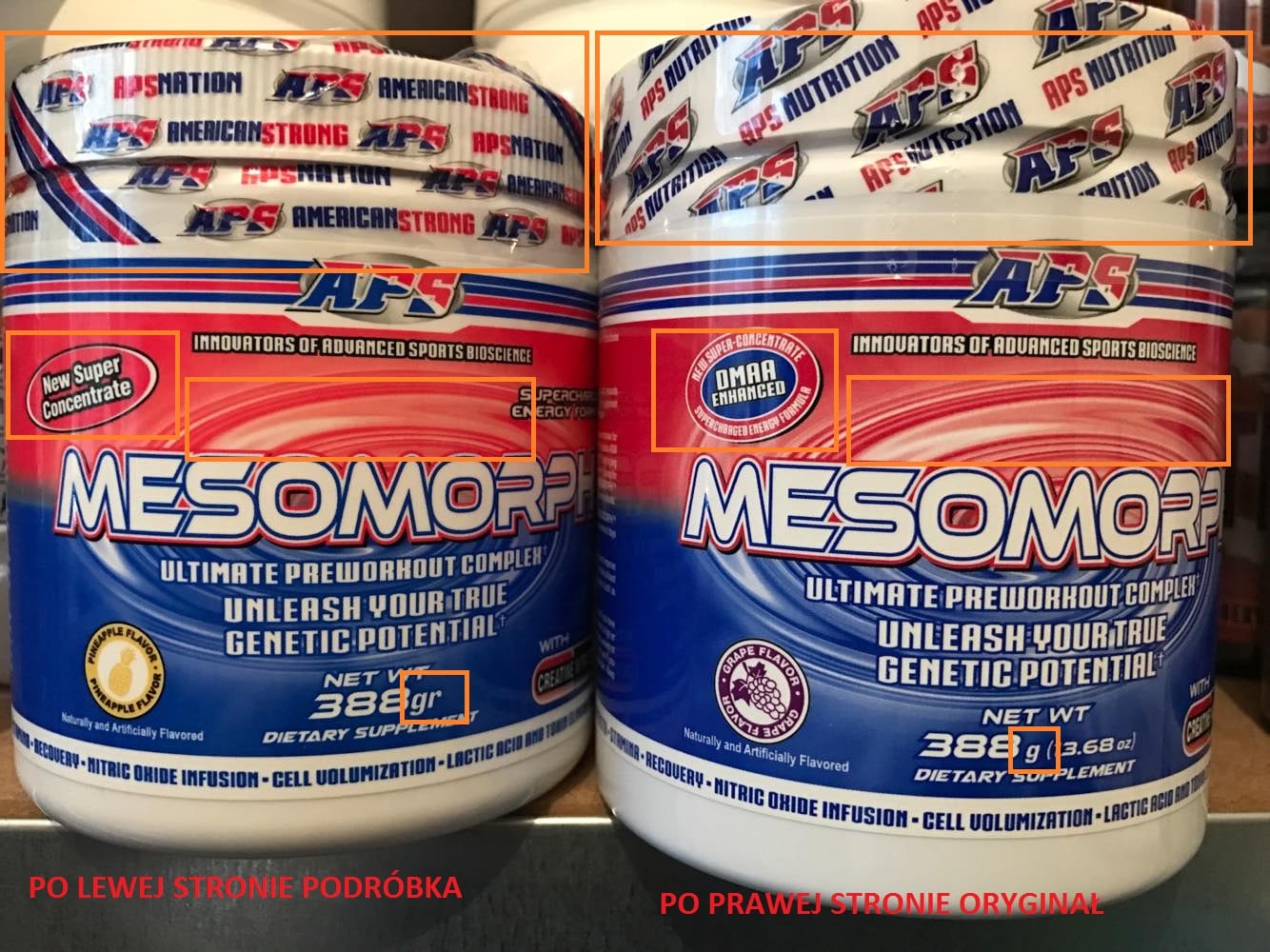 Jeśli śledzicie aktualności ze świata fitness szczególnie to co dzieje się w USA to doskonale wiecie, że legendarny
Mesomorph z DMAA
nie jest już produkowany. Firma APS Nutrition wprowadziła na rynek obecnie nową wersję bez dmaa. Ceny oryginalnego Mesomorpha zawierającego nasz ulubiony składnik poszybowały w górę i obecnie za oryginalną wersję trzeba zapłacić od 180 pln nawet do ponad 200 pln. Nie od dziś wiadomo, że ludzie liczący na szybki zysk produkują podróbki legendarnych suplementów i tym razem długo czekać nie było trzeba, aż Polskę zaleje fala nie oryginalnych mesomorphów.
Na szczęście podrobiony produkt łatwo można rozpoznać i ustrzec się przed nie działającym suplementem. Pomijając fakt, że podrobiony produkt nie działa to zastanówcie się co i w jakich warunkach zostało nasypane do środka. Raczej nikt z was nie chce ryzykować swoich efektów na siłowni oraz zdrowia...
Jak wspomniałem podróbkę łatwo rozpoznać, a więc bez zbędnego przynudzania odsłaniamy karty...
Kilka różnic, które widać na pierwszy rzut oka:
1
. W nieoryginalnym mesomorphie zamiast napisu DMAA ENHANCED jest napis NEW SUPER CONCETRATE
2
. W gramaturze nieoryginalny produkt ma GR zamias G
3
. Różni się sleev nakładany na puszkę (inna czcionka).
4.
Różni się również minimalnie czcionka i kolory na opakowaniu
Teraz już na pierwszy rzut oka będziecie mogli rozróżnić tanią podróbkę od legendy.
Kolejne różnice... Oprócz różnicy w opakowaniach zawartość znacznie się różni- podrobiony produkt po prostu nie działa jak powinien a jedyne co w nim jest wyczuwalne to ogromna ilość beta alaniny po której szczypie całe ciało.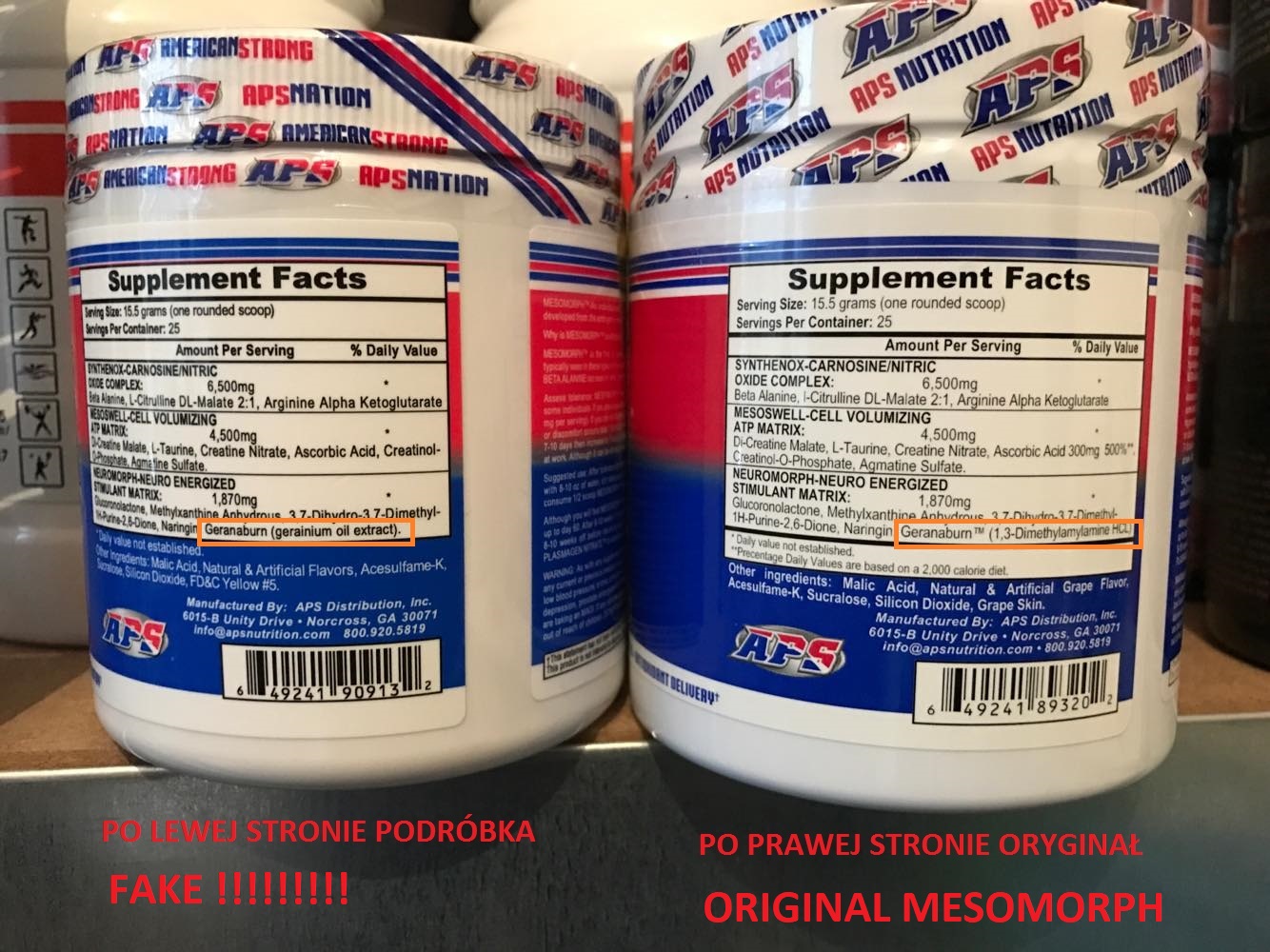 Różnice widać również w składzie..
Jak ustrzec się od podróbek ?
1.
Kupować produkty tylko w renomowanych sklepach, mających dobrą opinie wśród klientów ! Unikać nie pewnych źródeł typu: ogłoszenia w sieci od prywatnych sprzedawców, ogłoszeń na portalach aukcyjnych.
2.
Jeśli już kupujecie produkt z mniej pewnego źródła przed zakupem upewnijcie się, że kupujecie oryginalny produkt- często sprzedający mówią/piszą, że posiadają wersję usa lecz niestety mają wersje europejską (tyczy się również innych produktów) lub nie oryginalną
Podróbki występują tylko w standardowych smakach. Wersja limitowana daja gwarancję oryginalności.
Smaki limitowane to:
-Snow Cone
-Tutti Frutti
-Green Apple
-Rocket Pop
-Pink Lemonade
Teraz już wiecie jak nie dać się nabrać nie uczciwym sprzedawcą, jeśli chcecie mieć pewność pochodzenia waszych produktów to kupujcie suplementy w Bodyshock.pro - Jako nieliczni jesteśmy dystrybutorem produktów prosto z usa od producentów dzięki czemu macie pewność że dostarczamy wam zawsze świeże i oryginalne suplementy najwyższej jakości.
EDIT(14.01.2018)
Z racji wielu pytań na temat próbek aps mesomorph dostępnych u nas w sklepie informujemy, że są to oryginalne sample wyprodukowane przez aps nutrition w USA.
Nasze próbki pochodzą z czasów kiedy to aps mesomorph miał czarną puszkę i dokładnie taką samą szate graficzną jak nasze sample :)
Stara szata graficzna puszki mesomorpha (oryginalny produkt)
Stara szata graficzna naszych ORYGINALNYCH próbek (Nadal dostępnych u nas - ostatnie sztuki)
Tak więc jak widzicie nasze próbki nie pochodzą z piwnicy i nie są sypane łopatą przez żadnego Janusza z Sebą :)