Probiotyki - dlaczego są takie potrzebne dla organizmu ?
2017-07-10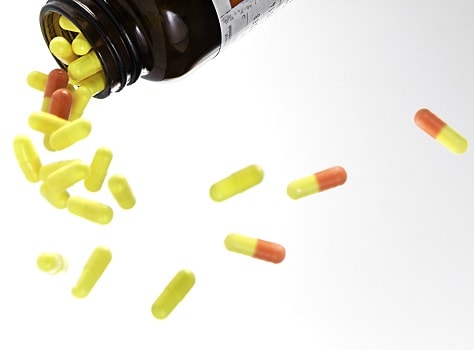 Probiotyki to wyselekcjonowane szczepy mikroorganizmów podawane człowiekowi (lub zwierzętom), wywierające korzystny wpływ na utrzymanie i/lub przywrócenie równowagi mikrobiologicznej w przewodzie pokarmowym. Jeżeli macie zamiar zakupić takowe warto wiedzieć na jakie szczepy zwracać uwagę.
Do szczepów o udokumentowanych prozdrowotnych właściwościach możemy zaliczyć m.in.
• Lactobacillus tj.: L. acidophilus, L. casei, L. paracasei, L. plantarum, L. brevis, L.bulgaricus, L.Helveticus, L.rhamnosus
• Bifidobacterium tj.: B. bifidum, B. infantis, B. longum, B.breve
• Pozytywne paciorkowce tj.: Lactoccocus lactis ssp. Cremoris czy Streptoccocus salivarius ssp. Thermophilusa,
• inne mikroorganizmy np. Bacillus subtilis i drożdże Saccharomyces boulardii.
Dlaczego są takie potrzebne dla organzimu?
• Zajmują się one głównie odbudową flory jelitowej
• Zwalczają bakterię z gatunku Helicobacter pylori, uznaną za główną przyczynę tworzenia się stanów zapalnych błony śluzowej żołądka, występowania wrzodów i raka tego narządu.
• Skuteczne w leczeniu i profilaktyce choroby Crohna, zespołu jelita wrażliwego,
• Pomagają w terapii zaparć oraz stymulują odpowiedź odpornościową.
• Łagodzeniem objawów nietolerancji laktozy, jest pomocne w ostrych stanach gastrycznych oraz podczas infekcji jelitowych.
• Ich stosowanie jest wręcz konieczne w trakcie terapii antybiotykowej (podczas przyjmowania środków oralnych jak np. prohormony)
• Szereg badań wskazuje na to, że bakterie kwasu mlekowego mają zasadnicze działanie w profilaktyce chorób nowotworowych, głównie dotyczących układu pokarmowego.
• Możliwa poprawa glikemii i wrażliwości na insulinę.
• Ważna rola w patogenezie cukrzycy typu II
• Leczenie dysbiozy.
• Wpływ na utratę masy ciała (nowe badania)
• Stymulują one przeciwciała, a także wzmagają działanie immunologiczne komórek makrofagów, limfocytów, cytokin, immunoglobulin i interferonu.
• Powinien być rozpatrywany jako potencjalny śreodek terapeutyczny do zapobiegania osteoporozie pomenopauzalnej.
Pozytywny wpływ stosowania probiotyków, czyli szczepów bakteryjnych stanowiących element naturalnej mikroflory jelitowej człowieka, kojarzony jest przede wszystkim z niwelowaniem negatywnych konsekwencji przebytej antybiotykoterapii. Tymczasem korzyści wynikające z ich obecności w diecie są tak naprawdę zaskakująco szerokie i zdecydowanie pożądane. Probiotyczne bakterie okazują się bowiem wpływać na funkcjonowanie całego organizmu.
Mniejsze ryzyko infekcji
Bakterie probiotyczne posiadają zdolność do wytwarzania związków korzystnie wpływających na pH panujące w przewodzie pokarmowym. Dzięki temu hamują rozwój drobnoustrojów chorobotwórczych i zapobiegają rozwojowi infekcji, zarówno tych lokalnych jak i ogólnoustrojowych. Włączając probiotyk do diety możemy ustrzec się zarówno zatrucia pokarmowego jak i zmniejszyć ryzyko wielu innych chorób o podłoży wirusowym, grzybiczym i bakteryjnym.
Mniejsze ryzyko alergii
Bakterie probiotyczne wpływają na tzw. przepuszczalność jelitową dzięki czemu zmniejszają przenikanie do organizmów zarówno groźnych patogenów, jak i immunogennych związków zawartych w żywności, przeciwdziałając reakcjom alergicznym. Przepuszczalność jelitowa to bardzo ważne zagadnienie mające wpływ na funkcjonowanie wielu układów i narządów.
Lepsze trawienie
Probiotyczne bakterie przejawiają zdolność do rozkładania niektórych związków obecnych w żywności. Sztandarowym przykładem jest tutaj cukier mleczny – laktoza, która ze względu na deficyt specyficznego enzymu (laktazy) jest dla znacznej grupy osób źródłem problemów trawiennych. Bakterie probiotyczne mogą zmniejszać lub całkowicie niwelować niepożądane objawy związane z obecnością laktozy w pożywieniu.
Zdrowe stawy
Chociaż wydaje się to dość zaskakujące, to jednak w badaniach naukowych udało się zaobserwować, że skład mikroflory jelitowej może wpływać na przebieg procesów zapalnych w obrębie aparatu ruchu. Prawdopodobnie probiotyczne bakterie za sprawą produktów swojej aktywności mogą hamować uwalnianie cytokin prozapalnych.
Mniejsze ryzyko raka
Probiotyki posiadają działanie przeciwnowotworowe, co związane jest z ich zdolnością do neutralizowania związków kancerogennych, a prawdopodobnie także wpływem na niektóre czynności nieprawidłowo działających komórek w obrębie jelit. Mechanizmy leżące u podstaw tej zależności są aktualnie intensywnie badane.
Niższe ciśnienie tętnicze krwi
Probiotyki mogą stanowić element profilaktyki nadciśnienia tętniczego krwi. Jak to możliwe? Okazuje się, że mikropeptydy wytwarzane przez bakterie Lactobacillus Helvetius działają podobnie do leków hipotensyjnych z grupy inhibitorów konwertazy angiotensyny.
Probiotyki przeciwko miażdżycy
Badania naukowe wskazują, że włączenie do diety probiotyków korzystnie wpływa na gospodarkę lipidową, poprawiając stosunek LDL (lipoprotein o niskiej gęstości) do HDL (lipoprotein o wysokiej  gęstości). Ma to istotne znaczenie w profilaktyce chorób takich jak miażdżyca.
Niższa masa ciała
Stan mikroflory jelitowej może być w pewnym stopniu skorelowany z masą i składem ciała, a co istotne poprzez włączenie do diety niektórych szczepów bakterii probiotycznych możliwe jest zwiększenie efektywności zabiegów odchudzających. Wyniki wstępnych badania dotyczących tego zagadnienia są bardzo obiecujące.
Podsumowanie
Jak widać wpływ probiotyków na nasze zdrowie jest wręcz nieoceniony. Odpowiedni stan mikroflory jelitowej ma wpływ zarówno na funkcjonowanie układu pokarmowego, jak i wielu innych układów i narządów. Włączenie do diety produktów żywnościowych zawierających probiotyki jest więc zabiegiem bardzo pożądanym.