Czy to koniec sarmów ? Nowe chińskie przepisy eksportowe | sarmy zbanowane
2019-12-17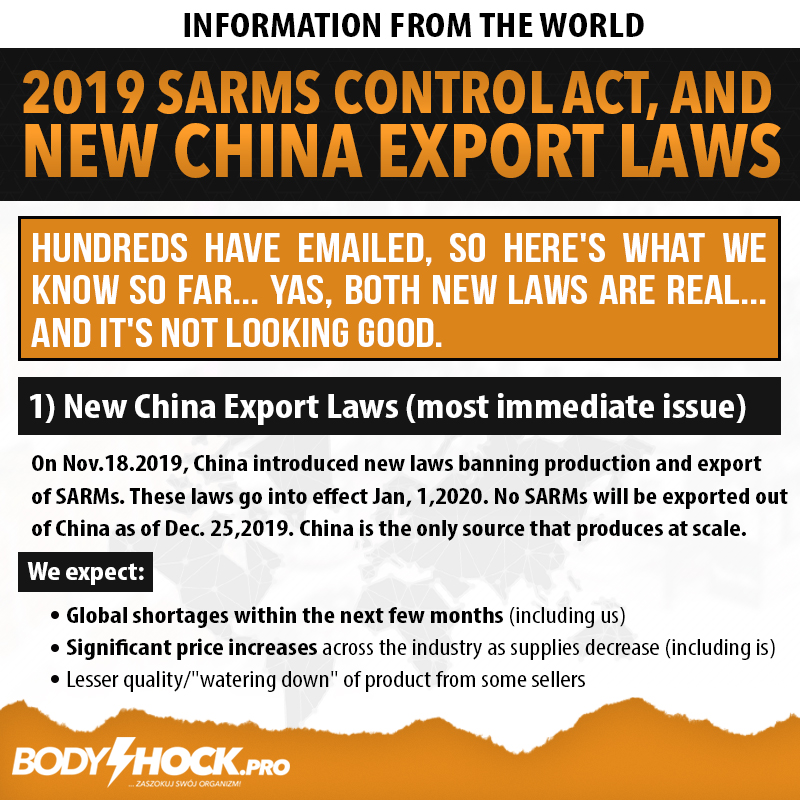 Nowe chińskie przepisy eksportowe dotyczące produktów typu SARM !
18 listopada 2019 r. Chiny wprowadziły nowe przepisy zakazujące produkcji i eksportu produktów SARM. Przepisy wchodzą w życie z dniem 1 stycznia 2020 r. W praktyce oznacza to, że żadne SARMy nie będą eksportowane poza Chiny. Kraj ten obecnie jest
jedynym
źródłem produkującym Selektywne Modulatory Receptorów Androgenowych na tak dużą skalę. Sekretarz generalny Chin Xi Jinping odniósł się do ważnych aspektów na temat sportu, zapewniając o przestrzeganiu praworządności, promocji zdrowia oraz zrównoważonego rozwoju sportu. 
Jak można się domyśleć niedobór suplementów SARM zacznie być odczuwalny w przeciągu zaledwie kilku miesięcy. Wiele firm zniknie z rynku zaprzestając dystrybucji. Wraz ze wstrzymaniem dostaw nastąpi znaczny wzrost cen SARMów ze względu na ograniczoną dostępność surowców podyktowaną zmianą prawa przez Naczelny Sąd Ludowy w Chinach. Uczulamy przede wszystkim przed falą podróbek produktów SARM, której pojawienie się jest tylko kwestią czasu. Proponujemy unikać firm "no name" oraz zaopatrywać się w produkty w autoryzowanych sklepach.
Kwestia dostępności SARMów w naszym sklepie stoi pod znakiem zapytania. Przypuszczamy, że uda się nam sprowadzić limitowną partię preparatów SARM z USA jeszcze przed wprowadzeniem zakazu eksportu jednak nie jesteśmy w stanie podać do informacji jaka to będzie ilość i na jak długo wystarczy. Kolejna kwestia to zaostrzenie przepisów odnośnie SARMów bezpośrednio w samym USA 19 listopada 2019 r USA ponownie wprowadziły SARMs Control Act, tym razem poprawiając ustawę z 2018 roku - ustawa jeszcze nie została podpisana więc tym samym nie weszła w życie. Kiedy ustawa przejdzie preparaty SARM dołączą do kategorii kontrolowanych substancji, uniemożliwiając ich sprzedaż. Nabywanie preparatów SARM stanie się trudne nie tylko dla kupujących ale też sprzedających z siedzibą w USA.
Firmy mogą wycofać się ze sprzedaży produktów SARM, gdy tylko wyczerpią się ich zapasy lub gdy ustawa stanie się prawna, w zależności od tego, co nastąpi wcześniej.
Ekipa bodyshock.pro w dalszym ciągu będzie dostarczać wam tylko najwyższej jakości suplementy diety od sprawdzonych producentów ! Trzymajcie się nas a moc będzie z wami !