Doesn't ship DMAA
to the USA
Worldwide Shipping
2-3 days
QNT METAPURE Zero Carb protein supplement based on pure Whey Isolate is one of the best forms of protein available, and because it contains trace amounts of carbohydrates, fats, cholesterol and lactose. You can use Metapure Zero Carb at your own discretion. Before training, to replenish the nutrients needed for training performance or after training, providing fast-absorbing protein necessary for the regeneration and growth of muscle mass.
The QNT brand protein isolate consists only of ultrafiltered whey protein isolate free of carbohydrates and lactose, which makes it highly digestible. The unique formula of production at low temperature enables the preservation of the highest nutritional value. The protein supplement contains only napkin protein isolate.
The raw material for production is high-quality, high-purity whey with high nutritional value, much higher compared to traditional whey protein.
The product contains over 90% protein (in dry matter). One serving contains nearly 51 g of protein!
Meta pure is the ideal protein for people with lactose intolerance who cannot use traditional whey protein and for those who follow a low-carbohydrate diet.
A single serving of whey isolate provides the body with all the essential amino acids it needs to achieve satisfactory results during exercise. The supplement contains a high level of BCAA and EAA amino acids.
Whey isolate is a dry, powdered substance that is widely used as a health supplement due to its unique health properties. The best results in terms of muscle growth are usually achieved when whey isolate enters the body immediately before or immediately after training.
Sport performance
Athletes who use whey protein isolate in their training program are able to improve their athletic performance and increase lean muscle mass. When subjected to exercise, the body needs protein to repair muscles, accelerating tissue recovery time. Increases the production of glutathione, which supports the process of building and repairing muscles. It intensifies the oxidation of fat to generate more energy and reduces oxidative damage at the cellular level.
Improved digestion system
Whey protein isolate can improve digestion, especially in people with a sensitive stomach and those who are lactose intolerant. It is often used in infant formula.
The perfect source of amino acids
Protein isolate is a valuable good source of amino acids such as glutamine, leucine, and cystine. The high concentration of branched chain amino acids is especially important because it contributes to the optimal maintenance and repair of muscle tissue. Glutamine and leucine stimulate protein synthesis after exercise and are responsible for reducing damage to muscle tissue and improving endurance. Cysteine ​​supports the production of glutathione, an antioxidant that helps maintain muscle mass.
Dosage:
Training Day: 1-2 servings daily depending on the protein requirement
Non-training day: 1-2 servings daily depending on the protein requirement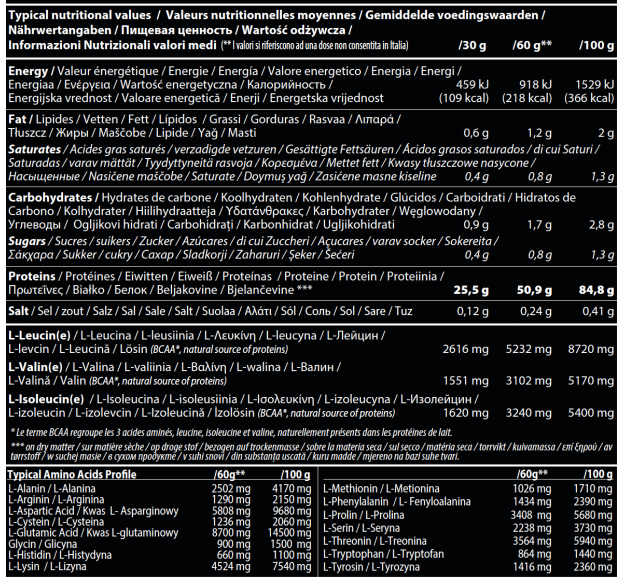 Number of reviews: 1
Average score: 5.00
exceptional flavors very good quality whey